ADVERTISE WITH US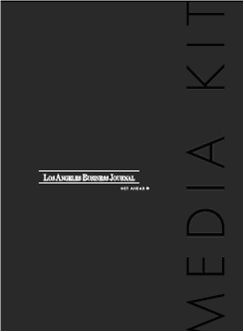 Weekly Circulation: 24,000
Weekly Readership: 57,500
49% of our readers are millionaires
67% of our readers hold executive management positions
Over 40,000 unique monthly visitors; the majority from Southern California
For more information contact Mary Kaminski: mkaminski@socalbusinessjournals.com or click the Media Kit icon.
EVENT SPONSORSHIP
BUSINESS MARKETPLACE
Our Business Marketplace section is the perfect place to advertise office space, residential real estate, businesses for sale, internet/technology services, employment/recruitment of top or middle managers, business products, request for proposals/legal services or DBA's.
Please contact Rosz Murray: (323) 549-5225 ext. 215 or rmurray@socalbusinessjournals.com.

DISPLAY AND ONLINE ADVERTISING
Download the LABJ 2014 Editorial Calendar (pdf)

Download: the LABJ 2014 Schedule of Events (pdf)



Please contact the Account Manager responsible for your industry using the table below:


ADVERTISING ACCOUNT MANAGERS Phone: 323-549-5225
Name
Email
Ext.
Advertising Categories
Josh Schimmels
jschimmels@socalbusinessjournals.com
218
Associate Publisher - contact for general advertising inquiries
Naz Bayazit
nbayazit@socalbusinessjournals.com
253
Advertising Account Manager - Law Firms, Investment Banks, Private Equity, Venture Capital
Jamie Chien
jchien@socalbusinessjournals.com
248
Associate Sales Manager - Accounting, Nonprofits, Management Consultants, Insurance
Marissa De La Cruz
mdelacruz@socalbusinessjournals.com
219
Advertising Account Manager - Airlines and Private Aviation/Charters; Arts & Entertainment; Casinos & Gaming; Convention & Visitors Bureaus; Education & Training; Golf Courses; Hotels & Resorts; Residential Real Estate; Restaurants & Catering; Retail; Sporting Events & Teams; Title & Escrow; Travel Agencies
Eva Juse
ejuse@socalbusinessjournals.com
222
Advertising Account Manager - Banks, Savings & Loans, Asset Managers, Credit Unions, Money Managers
Ellen Mazen
emazen@socalbusinessjournals.com
203
National Advertising Sales Manager
Kollene McGinley
kmcginley@socalbusinessjournals.com
252
Advertising Account Manager - Ad Agencies, PR and Marketing; Automotive; Engineering; Solar/Environmental Consulting; HR, Staffing, Employment, Search Firms; Commercial Real Estate Brokers, Developers, Architects, Construction Companies; Retail
Rosz Murray
rmurray@socalbusinessjournals.com
215
Classified Sales Manager - Classified/Business Marketplace, Investment Properties for Sale, Law Guide, People On The Move
Breanne Kamai
bkamai@socalbusinessjournals.com
213
Events Manager
Amy Khudoyan
akhudoyan@socalbusinessjournals.com
213
Events Manager
Darrin Sennott
dsennott@socalbusinessjournals.com
220
Associate Sales Manager - Banks, Savings & Loans, Credit Unions
Jim Slater
jslater@socalbusinessjournals.com
209
Advertising Account Manager - Bus. Trade Orgs & Unions, Econ Development, Non-Profit Orgs, Healthcare, Hospitals, Medical Centers, Insurance, Political Adv, Ports & Intl Trade Companies, Seminars & Trade Shows, Telecommunications, Transportation, Utilities, Defense
Bob Washburn
bwashburn@socalbusinessjournals.com
201
National Advertising Sales Manager
---
Want to talk to us?
For advertising and editorial, call (323) 549-5225
For questions about your subscription, call (818) 487-2055
Visit us
5700 Wilshire Boulevard, Suite 170
Los Angeles, CA 90036 USA.
Fax: 323-549-5255